Tidal waves of updates -- trickles of meaningful content.



























---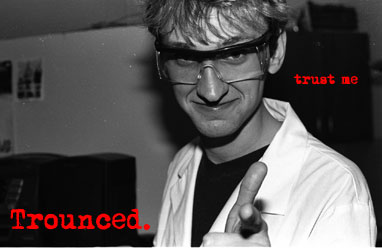 Friday, September 10, 2004
So how come when the Swift Boat Veterans for Truth ads come out, no one in the media bothers to even question its authenticity for weeks, but the minute a memo about Bush's National Guard Service comes out - one that's most likely NOT a fake, all the headlines are about "casting doubt" on the memos, and how they "might be forgeries."

Oh, that's right. It's the liberal media.

One more poltical thing. I apologize.






We finished shooting our first week of shows, which will start airing on Monday on G4TechTV (8:30 and 11:30 PST, 11:30 EST). If you watch the shows, you'll get a glimpse of some of my photoshop work and maybe see me in a few bits. Good stuff. Tell your friends. My produced promos and bits will be on the week after.
posted at 8:54 PM
Tuesday, September 07, 2004
It is official.

My first 20 seconds of co-self-produced television (nothing in television is ever done by one person, you know) were screened today, along with 60 more seconds of similar material, to the host, producers, and writers.

Big laughs and a thumbs up from the host. Very heartening.

So those should be on the air in a few weeks, and I'm also most likely going to be on air a bunch, too.

More details later. Work is good.
posted at 10:55 PM