Tidal waves of updates -- trickles of meaningful content.



























---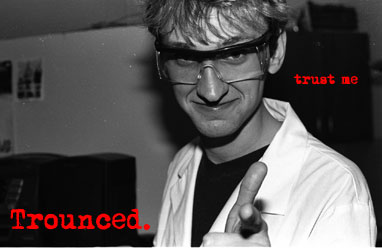 Monday, May 31, 2004
Crash wanted me to tell you that he's arrived, and will be staying with us for the summer.

So there you go.


Being in Los Angeles makes you die inside. Sounds dramatic, doesn't it? It's not a very noticable effect, but over time, you will find yourself changing. You'll complain that 70 degrees is "a bit chilly," you won't have any reaction to a traffic jam, nor will you bat an eye at paying more than $2.50 for gas. You might even pass a tanning salon and think, "Well, that's not quite as insane as I used to think it was."

Fool! It's totally insane! You live in southern California! It's always fucking sunny!

Luckilly, there is a cure for all of this. It's called "Anywhere Else in California." You just get in your car and leave Los Angeles County. Look around. Remember how beautiful the rest of this state is. Rinse and repeat.

This weekend I hightailed it back up to central California along the 101 / California One to the Hearst Castle State Park in San Simeon. It's basically a mini Mediterranean village built on top of a mountain to house and display all of the Mediterranean antiquities Hearst had collected over the years.

And there are a lot. Pretty much, whenever you see something and you think, "Hey, that obelisk looks Egyptian," the thing you're looking at is not only Egyptian, but it's almost 5000 years old. As one of the tour guides said, "Mr. Hearst was not all that different from you or I. Maybe you like to collect stamps or coins. Mr. Hearst liked to collect antique Spanish fireplaces."

I took two of the five two-hour tours offered at the Castle, making sure to hit up the tour that went to the castle's wine cellar, where 150 bottles of wine were stored behind thick protective glass. Didn't stop the smells, though. That tiny room had the thick, heady smell of the best glass of wine you've ever had, just lingering in the air.

After I left the castle, I stopped in the tiny village of San Simeon, which was basically built as a port for the ships bringing Hearst's building materials in. Not really much there, but I did get some iced coffee from the general store (circa 1852) before I drove south on the One again. I stopped at a secluded beach, grabbed my packed lunch and jacket and sat down on a boulder, eating my PB&J as the wind swirled cold salt air around my face. Other than the crashing surf, it was completely silent. In other words, perfect.

As I drove toward Cambria, a California Condor flew above my car. Further along the road, it came alongside my car and hovered next to my front window for about 5 seconds before flying away. It must have been about 10 feet away from me.

In Cambria, another tiny village in the middle of nowhere, I walked up and down Main Street. I don't know how, but it looks like the main industries of this place were bed and breakfasts, artists' galleries, and cafes. It sounds like it could be an obnoxious mess, but it was actually quite nice. And I never thought I would be so excited to see so many pine trees. I checked out some of the stores and had tea and scones at a British tea room / store, and was going to leave before I saw a sign reading "California Historical Site - Nitt Witt Ridge." How could I possibly pass that by?

Unfortunately, if you don't know what Nitt Witt Ridge is, it turns out it's impossible to find it. I was looking for an actual ridge, maybe an old Fools' Gold mine and the origin of the word 'nitwit.' Nope. It's a house.

Weird thing is, when I drove by the house (oh, three or four times, looking for the ridge), I thought "Wow. That house is pretty fucking cool." Oh well, next time. While I looked for the house, though, I did have to stop because a mother quail was leading her chicks across the street. I've never seen a quail before.

They are adorable.

I contiuned on to Morro Bay, pictured below, to check out Morro Rock and their Embarcadero. I had a nice dinner seated on the edge of the bay, watching the sailboats pass by before I grabbed another coffee and headed home.

More pictures here.



posted at 6:34 PM
Tuesday, May 25, 2004
Catching Up

I may have to start a new trend of starting all my blog posts with the sentence "much has happened since last I wrote."

Lends it a new sort of gravitas, doesn't it?

Much has happened since last I wrote. The crops haven't grown as they should, although I made sure to sow when Poor Richard's Almanack suggested. The winds are cold and carry the whooping cough from the north.

And so on.

Well, let's give it a quick run down, shall we? Last Sunday, I helped out my ol' pal Bill from "Malcolm," who is on a new quest to try to become a director. I filled in last minute for an abandoning PA (on my only day off after E3, no less) and drove him and his small crew around L.A., from Venice to the Angeles National Forest and Griffith Park. He's shooting a music video for someone who's already cut a record in Nashville, but hasn't got a contract yet. The song's pretty good, and I'm sure the video will be very good, too. I got a huge sunburn and almost passed out on the ride home, but it's always nice to help out someone in need.

Especially when that person might need to hire someone someday. Hollywood.

The rest of the week was pretty low-key. I got some nice congratulations for E3 at work, which will be even nicer if they lead to some sort of raise / promotion, etc. But we'll see. On my birthday, Bubbles (now in L.A. for the summer) joined Rachel, Meryl and I at a performance of "Matt and Ben." The verdict? Very funny. Lame ending. Great actresses. Kind of short. But you should still check it out.

The remainder of my birthday was spent drinking vodka tonics and dusting off some GameCube titles with Bubbles. Not a bad night.

But on Saturday, after spending a large portion of the day at the Getty Center, I came home to an actually surprising surprise birthday party. Even though we didn't go see Shrek 2 like I was planning on doing (did it on Sunday - Very funny, but not as groundbreaking as the first), it was a wonderful night, and I have to thank everyone who showed up to give me one of the nicest birthdays ever.

So here we go: Thank you Rachel, Meryl, Bubbles, Ken, James, Grant, Chris, Laurel, Lee, and Matt Kaszanek. Also, to Aimee, Shayna, Quinne, Christinia, and the Fam, thanks for sending cards / calling, etc.
posted at 8:32 PM
Monday, May 17, 2004
NERD ALERT

To all my non-nerd readers, I apologize ahead of time. This is a gamer rant.

E3 2004 was a shitload of work. I spent a good portion of four days in a tiny trailer, trying to keep track of over 300 tapes from 5 different filming crews and 6 different editors.

But, as far as I could tell, things all worked out. While everyone else was at the E3 wrap party, I was still in my tape trailer, meticulously taking inventory as I only I could do. After about a half an hour of that, some of my supervising producers came in and noticed I was still slaving away. They thanked me for my hard work, said I was very impressive and organized (better so than anyone else who'd done that job before), and was "remarkably calm under pressure." One of them even said that if I could handle that project that well, that I could handle anything. Does this mean anything positive for me? I hope so.

But I did get two chances to run through the convention, which were great. I didn't get to see everything I wanted to, but, as G4's resident Nintendo Fanboy, I did make a point of getting my ass over to the huge Nintendo exhibit. I played some Paper Mario 2, some Four Swords, and checked out the new Metroid. I also checked out the two hour line you had to wait in to see the new Nintendo DS.

But not for me! I strolled over to the main desk and said, "Hey, I'm with G4TV. Can I get in to see the DS?" I flashed my press pass, which was awesome.

The response: "Come with me, sir."

I got led into this side door and right into the DS Showroom. Just like that! Press passes fucking rock.

So I got in and played around with the DS -- a 3D version of Pac Man, the wireless chat program, and WarioWare DS. The touch pad is a little weird at first, but once you get into it, it is totally engrossing and a whole lot of fun, too.

In contrast to my previous post about the DS, though, I am not so certain it is going to kill the PSP. You really can't describe how great the DS is to someone who hasn't played it or doesn't see the insane possibilities of the hardware. As gaming moves from the current "next generation" consoles into whatever's coming up next, improvements in graphics will be marginal, at best, especially when compared with the jump from 2D to 3D. True innovation has to come from the games, themselves. It says a lot (and hopefully, a lot of good things) that game developers are going nuts about the DS. They must be feeling the limitations of the flood of carbon-copy games by now, and the DS offers them far more room to stretch than a slightly-higher resolution screen.

Thankfully, Nintendo has always been one of, if not THE best hardware company when it comes to innovation. Almost everything we enjoy about video games today was done first by Nintendo. If they can market the DS in the right way, keep the developers happy, and keep the prices low, they just might be able to stage a huge, huge comeback, both financially and psychologically. I hope the desire to keep its dominance in the handheld market will prevent Nintendo from making the same mistakes it made with the N64.

Unfortunately, innovation means little to the casual gamer, and most people who play video games now are of the casual variety -- look at the huge sales for the Madden franchise, which changes little from year to year, the vastly overrated Grand Theft Auto, or mediocre first person shooters, compared to breathtaking games like Beyond Good and Evil, Prince of Persia, or Disgaea. The PSP is much more appealing to this set of gamers because it's flashier and, well, sexier than the DS. It's got a 16x9 screen and great graphics, but that's about it. All the PSP does are things that other items already do, although I'd be lying if I said I'd mind having one.

Really, I think this upcoming handheld war is going to come down to the good ol' Art vs. Commerce standoff, and we usually know how that ends up. But I really do think Nintendo has a great product, and I hope they know how to sell it to people. I know I'll be buying one. If my money can help Nintendo kick Sony in the crotch, then I can sleep easy.
posted at 8:00 PM
Saturday, May 15, 2004
I promise, I promise, a more substantial update soon.

I thought I'd have Sunday to catch up, but I offered to do a friend a favor, and will be gone most of the day. Maybe tonight.

Until then, one of the snapshots:




Me playing the unreleased Paper Mario 2, one of the most beautiful games I've ever seen and, as you can see, winner of "Best RPG" at E3.
posted at 10:51 PM
Tuesday, May 11, 2004
Minor Update From E3

The Nintendo DS will rule us all. It will utterly destroy the PSP.

Utterly.
posted at 10:44 PM
Sunday, May 09, 2004
Whoa ... so it looks like Blogger done and got itself a new interface. That'll take me a little while to get used to ... like the fact that I can no longer see what my last post was while I'm writing this new one. Lame!

Anyway, there's been some pretty crazy stuff going on lately. We finished up shooting a year's worth of episodes in four weeks (thank God for post-production) just in time to get ready for E3. Now, before you get jealous, you should know that I'm going to be locked in a trailer for most, if not all of my time there, probably working until 3 or 4 in the morning every night.

Because people noticed that I was organized, I was put in charge of managing the tape vault for basically the entire company, so I get to deal with dozens of crews dropping off tapes they shot, game companies delivering EPKs, and editors asking me what tape has the Prince of Persia 2 footage and why can't they have it immediately. This job is going to suck ass. Every time I pass people in the hallway now, they look at me like I'm my way to the gallows. But it's not without its benefits.

For one, I've already gotten to see a lot of the game footage debuting nationally later this week (Prince of Persia 2 looks great, but Final Fantasy XII looks even better). And since I'll be in contact with pretty much everyone in the company, if I do a good job, everyone will see. Of course, if I fuck something up, everyone will see that, too.

With all this stress floating around, I'm planning on putting my full attention (if not a whole lot of my attention) to our garden. After Aimee pretty much took a machete to the dead bushes and overgrowth the previous tenants left behind, we tried our best to start growing some real plants in their place. Unfortunately, they all died. We tilled the soil and tried again. This time, we're getting some signs of life, but my moonflower vines were still getting chomped on by aphids. After trying out some "herbal pesticides," followed quickly by some actual pesticides, the aphids still kept coming back. So now, I'm going with this:




That's right. A bag of fucking 1800 ladybugs. I hope you aphids are all full from eating my plants, 'cause these ladybugs have been sitting in my house all day, and they're hungry and cranky. Also, think of all the good luck I'll get when I free these little guys into our small patch of wilderness in Los Angeles. I will see those vines grow free, damnit!

So what's this all for? Well, not just for the great entertaining and relaxing space on our patio, but also for the ocassional scenes like this hummingbird, which hovered around the garden for a good 20 minutes today. Good stuff.




Oh, also, I saw Of Montreal on Saturday night. Two things to everyone who listens to them:
1. Get their new CD. Their last one was kind of lame, I know. But this one is great. Take everything you ever loved about Of Montreal, then add a drum machine and TWO drum kits. The beats here are incredible.
2. Go see them live. They're touring with some new band members who can actually pull off the 5-part vocal harmonies while still managing to totally rock out. And they're back to putting on some weird skits between songs.

All right, that's all for now. I apologize if you haven't heard back from me last week, but you won't hear back from me until this Saturday, probably. Busy!
posted at 6:50 PM