Tidal waves of updates -- trickles of meaningful content.



























---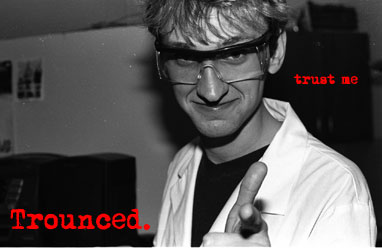 Sunday, February 29, 2004
Calendar Envy

Way back in January, I was shopping around for a new calendar to replace my old 2003 vintage travel poster model, which served me well throughout the year. Back in Connecticut, I would always drive to the closest mall and walk to the seasonal calendar store. Maybe you have something like this around where you live: It appears in a vacant storefront in the mall, usually right before Thanksgiving, stocks itself with hundreds of weird calendars, and vanishes in mid January. It's the suburban shopping mirage for people who buy shitty Christmas gifts.

The best part about these stores, though, is that in early January they slash the prices on their calendars 80 or 90 percent, so you could pick up a beautiful antique maps calendar for $2. Over the years, fighting with other retail bottom-feeders in this store had become my own little holiday tradition, and I was usually able to snag a few gems buried beneath the piles of Thomas Kinkade flotsam.

Los Angeles, for better or worse, doesn't really have a lot of the huge megamalls we surburbanites are used to having. The Barnes and Noble near me didn't have much in early January -- mainly NASCAR and Precious Moments. My search continued for a few weeks until I found a beautiful Sierra Club calendar at a Borders Books and Music store.

As I drove home from work on the choked-up 10 Freeway every day, looking at the same depressing landscapes all the time and slamming on my brakes to keep from rear-ending the thousands of cars in front of me, all I could think of were the landscapes of national parks on my calendar. The wanderlust struck, and the result was this:




That's me in Death Valley National Park at Badwater Basin, the lowest point of elevation in the Western Hemisphere. My roommates and I took an impulse trip there on a long weekend, driving through the bizarro parts of California like Trona, a close-to-abandoned factory town in the middle of the desert where everything smells like sulfur. Once we got into Death Valley, though, we found it was pretty much exactly what we needed.




The alien landscape was strangely beautiful, the air was clear, and it was almost completely silent -- three phrases no one would ever use to describe the Los Angeles metropolitan area. I can't speak for my wonderful traveling companions, but I found climbing huge sand dunes and hiking through carved out canyons under silent blue skies to be one of the most overwhelmingly peaceful experiences of my life.

It just goes to show you: While Los Angeles is a dump, the rest of California is amazing. I'm not sure where our next family vacation is going to be to, but I'm sure it's going to be a great experience.
posted at 2:41 PM
Saturday, February 14, 2004
Excuses, Chairs.

Work has been pretty much taking over my life lately, mainly because we had our first big shoot of the year this week. We nailed down 8 solid new episodes in four days, and I hopefully came off as a competent production assistant. The days were long, but the work is simultaneously draining and energizing at the same time. The highlight was probably showing a bunch of sedentary shut-ins how to play Dance Dance Revolution, a game I find myself oddly compelled to play more often. Of course, working for a video game network has other perks, as well: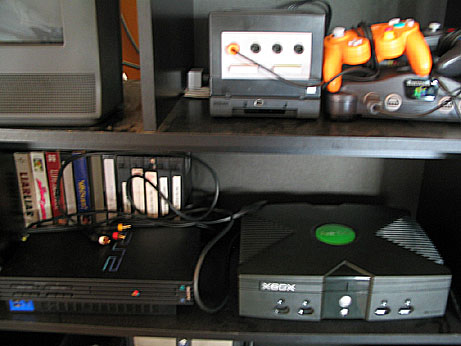 Eat your hearts out video game geeks -- that's an N64, GameCube with Game Boy Player, Xbox, AND PS2, all in the same apartment. And if you live in/around L.A., you are more than welcome to come over. Mikey's scheduled for Monday with his GBA to rock out Final Fantasy Crystal Chronicles with me.

But enough about video games.

For now.

My first major post-job purchases were aquired, in the form of an extremely-bargain-priced computer desk and leather massaging chair -- all for about $140. They look great and work great. And the chair has a rechargable battery, so I could -- in theory -- roll around the entire ground floor of the house while getting massaged. This theory has not yet been tested, but I have a feeling it will be put through rigorous scientific experimentation very soon. I also have a feeling alcohol will be involved and pictures will be taken.

As you can tell, I'm feeling life is pretty good right now. A year ago, I never would have thought I would be working for a video game network, living in an almost completely furnished apartment, watching TiVo or having all major video game systems and a massaging desk chair. I'm even starting to tolerate the more than likely possibility of John Kerry being the Democratic nominee. The only way it could be better is if all my student loans were paid off ... or maybe if I had a job on "The Thirsty Traveler," one of the amazing new shows I've discovered thanks to TiVo.

Now that the workload should decrease slightly for a few weeks, I'm going to try to make more of an effort to update this thing on a more regular basis. So hopefully, I'll be writing more soon. Until then, it's time for Xbox.
posted at 2:57 PM