Tidal waves of updates -- trickles of meaningful content.



























---
Monday, March 29, 2004
Yesterday, I came to terms with the fact that Target was never going to have what I wanted in my size and bought some new, alternatively-styled running paraphenalia yesterday afternoon. Later that afternoon, when the sun was going down, I donned my new attire, popped Feelings into the CD Player and set out on a Park La Brea-protected expedition.

All day today, my legs had a little conversation with me. It went something like this:

Legs: WHAT DID YOU DO TO US?!? WHY?!?! AHHH!!! WHAT HAVE WE DONE TO DESERVE THIS!?!?!?!
Brain: You sit all day. That can't be healthy.
Legs: YOU MEAN THERE IS NO GOOD REASON?!?
Brain: Besides general health, not really.
Legs: AHHH!! THEN WE WILL MAKE YOU LOOK RETARDED WHEN YOU'RE TRYING TO GO DOWN THE STAIRS!!!!
Brain: Oh, crap.

And they certainly made good on their promise, as I looked and felt like an 80 year-old grandmother whenever I needed my legs to do something. But it is for my own good. Or so I will keep telling myself, as I voluntarily wake up at 6 AM tomorrow to try the whole running-before-work thing. If you don't hear from me in a little while, I'm in a hospital somewhere trying to fake medical coverage.

And now, since it seems to be hitting most of the other blogs I read right now, I'll descend into some self-indulgent Gen Y belly-aching. If you want to skip it, then look at this picture of a happy puppy and proceed to your next favorite internet time waster.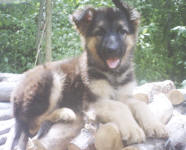 After some fairly encouraging feedback from Tale of Two Cities, I was all set to sit down and start focusing on capital-w Writing again. I was going to clean up my scripts, nail out some posts, and maybe even submit some stuff for my work's web site. Then, the same thing that's happened since June '03 happened -- nothing. For whatever reason, I haven't been able to muster the desire, the focus, or the drive to actually see something to fruition. Right now, it just seems like a whole lot of effort for very little return, especially when I'm very happy with my current and possible situations in the production wing of television at work right now.

Maybe I just need someone to light the fire for me. Aimee and I have committed to writing an episode of the brilliant Monk this summer. It will be unlike anything I've ever written before, so hopefully that will get the gears turning. Maybe I'll start leaving trails of Girl Scout Cookies leading toward my laptop and the Final Draft 6 disc ... nah. Then I'd just have to clean up after the ants.

Regardless, I'm tapping into that restless feeling that seems to be going around these days. Too bad I can't afford to travel anywhere because of my crippling student loans. Seriously, what a fucking racket that is. When I'm done paying off all my loans (in 30 years, no less), I'll have paid almost double what I owe in interest. Because I'm too poor to pay my loans right away, I have to pay them twice, making me even more poor? If anything ever deserved to have bullshit called on it, it's that.

The mood is souring. I need to look at puppies.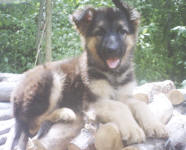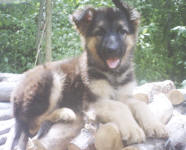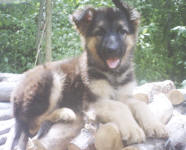 There we go.
posted at 9:56 PM
Tuesday, March 23, 2004
Please Stop Asking Me What I Do At Work. There Is No Good Way To Explain It.

Just in case any of you thought I had made up my job and was making money selling crank on the street corner, here is an article from the Fresno Bee about G4. Now maybe I can explain what I actually do better than, "well, um ... it's like video games. On TV."

SANTA MONICA -- Two teenage boys stroll down a busy city street. Their gaze is fixed on the screen of a Game Boy Advance console. They are as focused on the game as the Mario Brothers are when zeroing in on super mushrooms.

And they're unaware that the buildings they're walking past house an important part of the video-game industry.

Inside one of those nondescript two-story concrete buildings that sits among rows of other nondescript concrete buildings is the new home of the cable channel G4. The channel moved in February from less-impressive facilities a few miles away.

Since the cable channel was launched in April 2002, G4 has become the chief television source of information on the $30 billion video-game industry. The channel, available through digital cable and satellite services, offers news on the latest games, entertainment based on the hottest game titles and even an awards show to honor the industry's best.

In the process, G4 is doing what so many other cable channels and networks have been unable to do: It's steering young males, especially those ages 12-34, to watch TV instead of listen to music or play video games. According to The Entertainment Software Association, 50% of all Americans age 6 and older play computer and video games; 39% of those players are women. The average age of a game player is 29. ESA is an association that works with video- and computer-game companies.

"It has been a very exciting two years for everyone. We started this business at a kitchen table and have grown into this new facility," says Debra Green, G4 chief operating officer, about the channel's rapid growth. "We went from zero employees to 200 employees. And the game industry has become very supportive of us both from a content and creation standpoint."

The 80,000-square-foot G4 headquarters is a maze of halls, stairs, studios and offices that would force even the adventure-game icon Lara Croft to use a map.

In fact, maps of the complex may be found taped up around the building to help employees find their way

Scot Rubin, one of the hosts of the cable channel's newsmagazine show "G4TV.com," talks about the channel's relationship with the game industry as he leads a tour through the new facility. He says that game industry executives had to be educated in the beginning about what G4 was about.

"Gaming has in the past been seen as part of the geek culture. Now, everyone realizes that games are cool, and those who play games are cool," Rubin says.

G4's new home is an example of just how cool video games are. A year was spent revamping the building, originally built for AT&T, to reflect the gaming industry. As a visitor enters the building, a large television screen greets him with G4 programs. The TV, he is told, is always on.

Around the building, huge video-game icons have been painted on the floors. Each conference room is named in tribute to popular games: Middle Earth, Space War, Renegade.

But the heart of the G4 headquarters is a small, dark room just 50 feet from the front door. Just past the lobby, where PlayStation2, X-Box and Dreamcast games line one wall and a table version of Ms. Pac Man sits, is the Game Capture room.

Except for a large conference table in the middle, the room is filled with nothing but monitors and screens. It is a popular spot with the staff. (The room is for employees only; the public can't wander in to play games.)

"This is where everyone comes to try out new games. We also can record scenes from the games being played to use in our shows," says Todd White, of G4's program development. "This is also the place where people can come on their breaks to play games.

"It has become so popular we have to schedule times for people."

Rubin ends the tour. He has to get ready to tape a segment of "G4tv.com." The weekly show, hosted by Rubin, Tina Wood and Laura Foy, is a mix of news and comedy, all within the video-game world.

Rubin, the creator and developer of the All Games Network Web site before becoming part of the G4 talent pool, comes across like the fun older brother of your best friend.

Wood is the girl next door and Foy could easily be Billy Idol's cooler younger sister.

Rubin, Wood and Foy bring a lot of gaming experience to the show. Wood writes for other G4 shows "Icons," "Players" and "Sweat."

Foy, who has the energy of Sonic the Hedgehog, has hosted and directed online shows about video games.

New episodes of "G4tv.com" are produced on Friday afternoons to debut the following week. The shows are taped in one of the two large television studios on the second floor of the G4 building.

Today's taping is one host short. Wood is out of town. Her fellow hosts take the opportunity to make fun of her, going so far as to tape her photo to an empty chair.

"Tina, you look picture-perfect," says Foy.

When not picking on their missing comrade, Rubin and Foy interview a Nintendo spokesperson about the company's plans for a new game system, play a game of "Congo Bongo" that features a set of bongo drums instead of a joystick, and get into some role-playing as Darth Vader and Princess Leia.

"G4tv.com" is not the only original show taped here. The channel's lineup is filled with shows that discuss and play video games. That programming ranges from competition by players in "Arena" to the critical evaluations of "Judgment Day."

Other shows on the schedule include "Blister," "Cheat!," "Cinematech" and "Filter."

All of the work that goes on in the facility has helped make the cable channel an exception to the ratings rule when it comes to television viewing habits. Executives for the broadcast networks and most of the other cable channels have noted a drop among numbers of young male viewers. But the news is just the opposite with G4. Young males make up most of the potential 13.3 million cable subscriber audience for G4.

"You have to understand what the young man wants," says Green. "Jeff Zucker of NBC specifically came out and said the reason young men are leaving network television is because we are not programming to them. If you look at all of the reality programming on network television, it is not being programmed to the young male.

"Everyone is so worried about the young male audience. For me, it is not hard to figure out. G4 is what they are looking for. It is games. It is the gamer lifestyle."

According to G4, more than 145 million people in the United States play video games. They will spend more time playing video games this year -- about 75 hours -- than watching rented videos and DVDs.

And most of those video game players are in the G4 target audience of those elusive 12- to 34-year-olds.

The channel does not forget its female viewers. But Green is a realist when it comes to who buys, plays or watches cable shows about video games.

Green says that new programming will launch later this year to lure more viewers. All of those shows will reflect gamers and their lifestyles.

"We want to be the entertainment channel gamers turn to first," Green says.

The last step in transforming the building into G4's home is putting the name on the front of the building. Green's as nervous as the police in "Vice City" about putting on that final touch.

"We will have to increase our security because people are going to want to come in and play," Green says with a big smile.

posted at 2:36 PM
Monday, March 22, 2004
A Little List

We finished shooting another eight episodes last week, and the work was fun, invigorating and ... well, exhausting. Those 12-hour days don't really seem like 12-hour days while you're working, but when you get home, you feel it big time. As a result, nothing much besides work happened last week. Developments from the show include me promising one of the teams sugar cookies the next time they come back, and one of the hosts asking if I had ever thought about doing on-screen stuff for a different show on the network. That's all I'm going to say about it right now, but I don't think I need to tell anyone how awesome that would be.

And while I'm in the thematic area, I figure I'll just throw in reason 237 why TiVo is amazing -- I just watched the episode of Cheers where John Cleese takes an Emmy-award winning turn as a cranky marriage counsellor. Brilliant. If it ever comes up on the TVLand listings in the future, you would be well-advised to check it out. Even if you don't have TiVo and you have to stay up late like a sucka, sucka.

The weekend after the shoot, I went back to my two apparently favorite Los Angeles activities -- buying CDs and going to farmers' markets. Since my parents finally sent me the rest of my cd cases, and I found an affordable and stylish rack to store and display them on, I figured I would celebrate by hemorraging some money at Amoeba Records. I picked up David Byrne's new "Grown Backwards," which is simply amazing in its own right, and seems to fit in with both the lush pastoral, wistful, rural music and the post-post-modern urban solitary ballads I've been listening to lately. Yeah, I think about stuff like that.

Now, some things that have the absence of rocking:

1. Blockbuster Video, which just charged me a late fee on a DVD I did not rent. Four months after I left the state I was charged from. What up, B-Buster? Don't you think I'm not getting my credit card company after you, either.

2. Curb Your Enthusiasm, which has been on a steady decline into absurdity all season. The finale, which I just caught, was padded with huge sections lifted directly from Mel Brooks' "The Producers," lackluster musical numbers and potentially hysterical situations left fully unexploited. I loved -- loved -- this show a year ago. I hope it can straighten itself out for next season and resist falling into the shithole the rest of television has become lately. It's a good thing I'm wholly engrossed in "The Sopranos" right now. Otherwise I'd have time to like, you know, do stuff.

Taking my written test for a California drivers licence on Friday. Should be interesting.

Until then, Scott, care to recommend a guitar? Or buy one for me? Just trying to keep the idea fresh, you know.
posted at 10:07 PM
Monday, March 15, 2004
So How About An iPod?

Congratulations to my brother Scott.

Some of you may remember that about a year ago, my brother was assaulted by one of his peers, who was drunk, and had to have some pretty substantial facial reconstruction, physical therapy, and a bunch of other nastiness. He very recently got closure by taking a monetary settlement instead of dragging out a civil case.

I hope that at least something good will come of what happened to him ... and I would also like to remind him that my birthday is coming up and that a new 40GB iPod would look really awesome in my pocket. Hey, I just figured all of our family would probably start hitting him up for money soon, so I'd get a head start. I would even accept a small contribution to the Buy Casey An iPod Fund ... or you could just come out and visit this summer.

But seriously, congrats.

And seriously. iPod.

We're shooting again this week, so I apologize if I haven't returned messages recently, but it's crazy now, and it's going to be crazy for at least another week. So hopefully, I'll see some of you soon.

p.s.

If you hate Donald Rumsfeld like I hate Donald Rumsfeld, you'll enjoy viewing this clip of him on Face The Nation.
posted at 9:33 PM
Monday, March 08, 2004
Documentary Whore

I am such a documentary whore.

I have about ten documentaries on the TiVo right now, and I'm going to do a search for more in a few minutes. It's like alcohol. But exactly the opposite.

In college, all we had were the few choice networks and trusty PBS, which runs some pretty great stuff late at night. Of course you've got the old standbys like American Experience and NOVA, and the undeniable social phenomenon that was Manor House. Now that I have access to the Sundance Channel, IFC, and Trio at the press of some ergonomically-designed buttons, I am approaching a slippery slope.

I just watched "Hell House," about a church in Texas that sets up a haunted house each year, filled with the horrors of abortion, homosexuality, and ... um ... raves. It's actually a pretty even-handed look at the whole thing, and it's very interesting and well-done. Then I checked out "My Father, The Genius," (damn, now every documentary's got a web site) which is also well worth a look.

And now it is time for bed. Tomorrow, I'm helping my show audition the new "hot chick" and, of course, playing video games. Also, it was almost 90 degrees today.

L.A. still sucks, but it's got a few perks every once in a while.
posted at 11:56 PM
Sunday, March 07, 2004
Blog Post

So maybe you've noticed that this particular blog, of all the blogs in the blogopshere, has a very low ratio of links to content. The three or four of you who still come here probably don't care so much that I'm not linking to other peoples' blogs in every post, talking about blog parties, and all those other bursts of infotainment that seem to be more prevalent on other blogs.

If you like that about this site, I apologize, because I've got a few links that need to be taken care of here. A few weekends ago, I went out with newly-blogged Laurel and Jon of Jon's Mind, who is just as funny and smart in person as he is on his site. We hung out at Tom Bergin's a few blocks away from me, and had some delicious White Russians. Even better was that we scored a booth from the oddly-thin Saturday night crowd. But even though it's an Irish Pub, it's definately worth checking out the White Russians there.

Jon handed a book down to us entitled "Blogging: Genius Strategies for Instant Web Content," which he said was handed down to him from another blogger. It's a bloggers' heirloom, aparently, and from just skimming through it for a few moments, it looks like there's a lot of stuff to pick up. Maybe I'll whip up a new site design over the summer. It's been a few years since I've changed it, right?

Then today Lee came over to hang out with us as the L.A. Marathon passed through our front yard. This thing did not compare at all with the Boston Marathon, but it was still a pretty good time ... that, and the weather was incredible. 80 degrees and sunny. I'm pretty sure I got a sunburn. In March. Hell yeah.

Oh, hey, Target -- why don't you ever have my track suit? Don't you know I have to capitalize on this "I want to run" momentum ASAP?

Thus ends my link-y blog post.
posted at 7:38 PM
Wednesday, March 03, 2004
Desert Physics

As she looked over the Death Valley post a few days ago, Rachel asked me why I hadn't talked about the sand incident. I could come up with a good excuse, but the reality is that it's embarrassing, so I didn't want to say anything about it.

But what the hell.

So after we all checked out Badwater Basin, we got in my car and drove off into the empty plain, pretty exhausted from all our hiking and being awesome and all. The ladies fell asleep as I drove, enjoying the fresh air whipping all around my car.

You've already read about how beautiful I thought the landscape was, so you won't be surprised to know that I was struck once again on the way out and decided to pull over to step outside and take a picture. I pulled off to the side of the road, and as soon as I got to the edge of where I thought the pavement still was, my steering wheel spun out of control and my Accord was sent into a shallow, but deep enough pile of sand. I immediately mumbled, "Uh oh."

Aimee and Rachel woke up. Recap: Death Valley. Middle of Nowhere. Driver of car saying "Uh oh." I can only imagine what they were thinking.

Lucky for me we had some boxes from our lunches in the trunk, and Aimee devised an ingenious plan to put the cardboard underneath my tires and push until I got back onto the road. All was good, and we got to apply something we all learned in physics to a real life situation!

posted at 9:19 PM