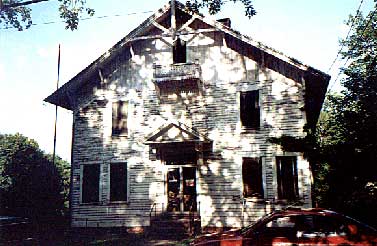 Sara: Here is the next house, the old town hall.
Chris: Ye Olde Berlin Town Hall. There was a beautifully ornate red candle just inside the locked door. Add matches and stir in overzealous and irrational protectional urges for instant danger to children.
Casey: You'd think a town with a historic town hall sitting right in the middle of its historic district would make some kind of a museum or monument or something worthwhile of it.  Nope.  Some woman was using this building as The Ultimate Crap Closet.  Seriously.  It's full of Crap.  Well, not literally, but well.... you know what I mean.